System development & solution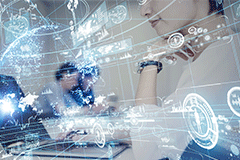 We are engaged in many system solutions and system development. In addition to software development, we provide a consistent solution from upstream process to downstream process from business analysis to design, development, implementation and operation.

We consistently manage the contradictory requirements of QCD (Quality, Cost, Delivery) in the project to always provide products with high customer satisfaction without any compromise.
Also, We are always looking for the best measures without neglecting the PDCA in project promotion methods and management methods, and not being satisfied with the current situation.

As a unique achievement, our production control and quality control system for manufacturing industry and WMS for logistics industry are widely deployed all over the world.
One of our strengths is to go to the field and stay close to the customer until the customer is satisfied.
"intra-mart" Development Partners

"intra-mart" is,
a platform system of various web applications(integrated framework) developed and marketed by NTT DATA INTRAMART CORPORATION, which has introduction achievements in over 5,300 companies (end of March 2017) world wide.
We can realize a quick delivery in low cost, with standardization promotion and quality improvement for Web system development by implement this framework.
Unlike unique workflow system, you can manage a wide range of business process processing, and high linkage with existing system provides a unified platform for the entire company.
Please see here for our achievements to intra mart.
We are a member of "intra-mart" development partners (IDP: "intra-mart" development partners).
We mainly work on system development support by consignment and temporary staffing of certified technicians.
※ "intra-mart" is a registered trademark of NTT DATA INTRAMART CORPORATION.
Solution service
Group company
Privacy policy
follow